Visit San Ignacio Lagoon and discover why it is the best place for whale watching in Baja.
When you decide to have a whale-watching experience like no other, you'll want to ensure it truly stands out. We can assure you that it's possible when you choose whale watching in Baja, in one of the most exotic and awe-inspiring locations known for its rich biodiversity and a community dedicated to its preservation: San Ignacio Lagoon.
Best Spot for Whale Watching in Baja
When you think you've experienced it all, life reveals there's so much more to see, touch, and feel. To make the decision to visit the gray whale in San Ignacio Lagoon is to choose to live life with an open heart, to allow life to touch its most sensitive parts with just the gaze of another being, and to understand that we are interconnected.
Sailing through San Ignacio Lagoon in Baja California Sur to reach the gray whale feels like this, and what's waiting there for you is much greater than you expected: The most genuine and pure encounter with the gray whale is the gateway to the flow of life, to coexist, and most importantly, to exist together.
Every year, the Pacific gray whales travel to the waters of San Ignacio Lagoon, arriving between December and mid-April. This is when the water temperature is at its best for them to give birth to their calves and introduce them to life, where they will be nourished and strengthened for a journey of further learning and growth in communion with other marine animals and also with humans.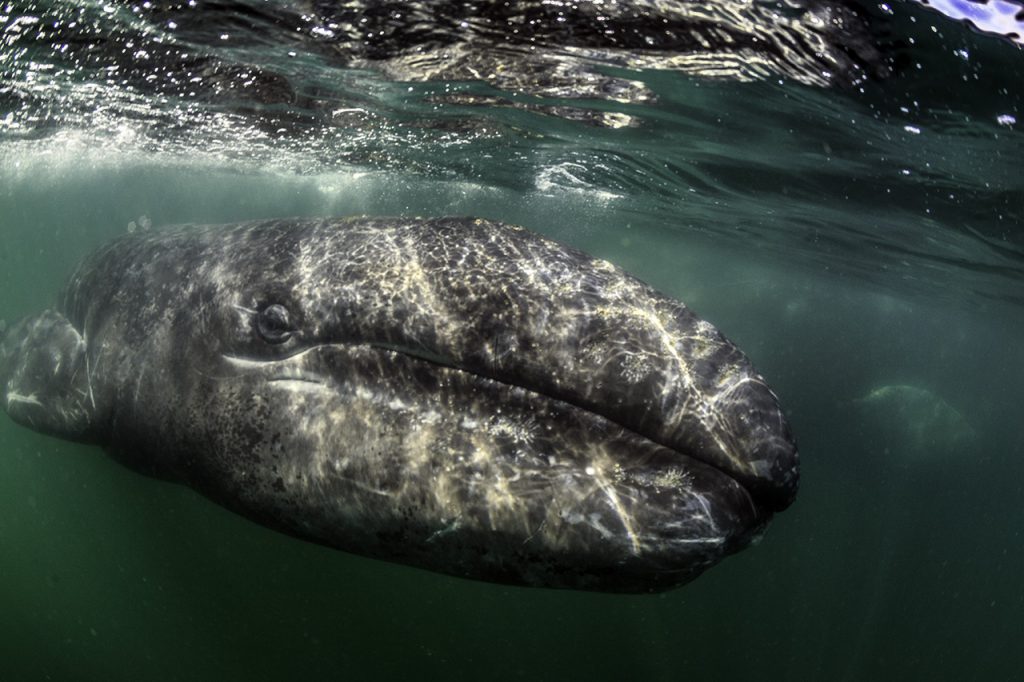 San Ignacio Lagoon is located within an area known as El Vizcaíno, which is part of the Biosphere Reserve, preserving numerous species including sea lions, sea turtles, and, among many others, the gray whale.
The whales that come here are friendly and enjoy interacting with the people who live here. They also enjoy interacting with those who visit every year for whale watching. And according to our guests, our guides, and the people who inhabit San Ignacio Lagoon, they all share the same reason: these whales want to connect with our species, communicate with us, show us their world, and their immense kindness so that we carry it with us forever in our memories.
"Today was our first day at the lagoon and it was amazing!!
I heard this is a spectacular experience and I thought I was ready but wow! making eye contact with a whale for the first time, changes everything. I am very excited for tomorrow!! The staff really love this place and the whales are very appreciated!! Thank you for an amazing day!!

Anahí
"San Ignacio Lagoon is full of life, beauty, and adorable mothers and babies. Today, a lovely and incredibly friendly mother whale gave us the chance to interact with her. She even let us give her a kiss!! The babies are extremely playful and grow more independent. It's evident they're ready to leave the Lagoon and migrate northward. My group is brimming with energy and positivity. They are always grateful for every behavior the whales display. We've received countless gifts and lessons from these gentle giants.

Pame Tajonar – Environmental Journalist & Activist
Much is said about whale watching, and it's true that it's an activity that brings immense joy because it's a moment when they are there for us, for our appreciation, for us to observe them. However, visiting the gray whale in San Ignacio Lagoon means much more than that; it's about connecting, but above all, it's about valuing the existence of these generous giants. It's a moment of communion with them where it's possible to understand that true greatness lies in comprehending that we are part of the same.
One of A Kind Experience
Embarking on the adventure of experiencing our San Ignacio Lagoon Tour is one of those moments that will forever mark a before and after in the way you approach life.
Our camp, nestled in a desert bordering the ocean, provides an unparalleled experience that no other whale-watching trip can offer. Our tents are designed to offer you maximum comfort and space while allowing you to appreciate the wild side of life in the desert.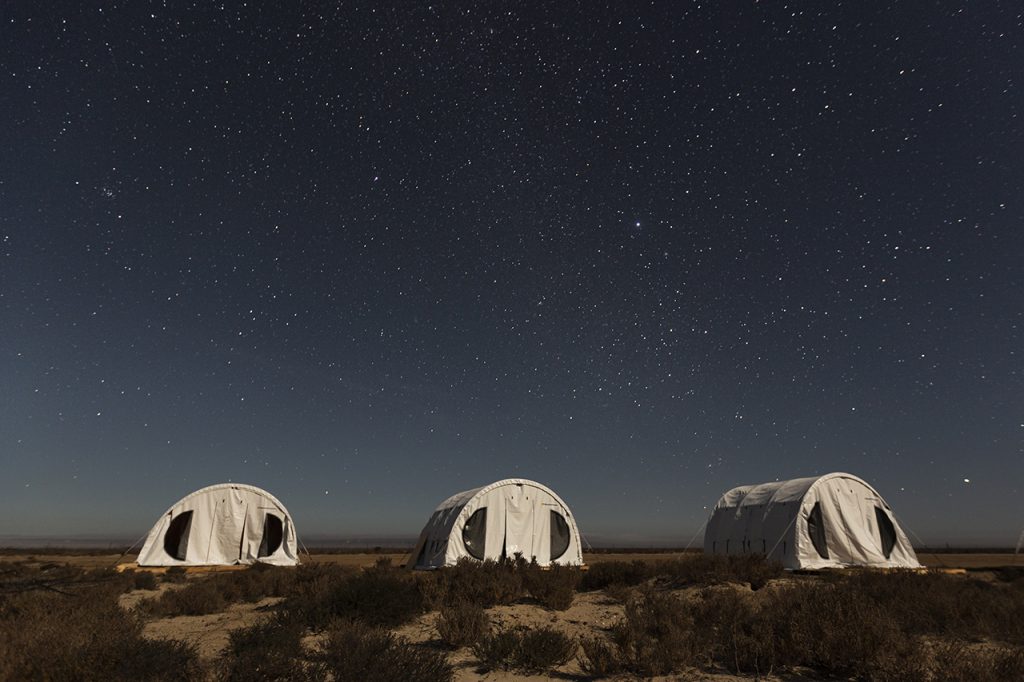 The surroundings of Laguna de San Ignacio are exceptional and perfect for outdoor eco-tourism activities such as kayaking on its beaches or hiking through its hills. It is also possible to enjoy activities that provide a glimpse into the regional culture, such as visiting the local museum or exploring the cave paintings.
San Ignacio Lagoon is also known as a region where its community is highly dedicated to preserving nature and the species that inhabit it. In this area, it's possible to spot up to 200 different bird species so, in addition to being a well-known destination for whale watching, it is visited by bird enthusiasts from all over the world.
"More than a whale watching camp it was for me a spiritual retreat. This powerful and magic place gave me the opportunity to reset my mind and disconnect from the modern chaotic life, reconnect with nature and myself. I'll miss the sound of the whales at night, the pinky sunsets, the starry nights and the howls of the naughty coyotes…"

Scarlett Mayorga
"This is nowhere near long enough to write about my experience in San Ignacio and it's only day one!! Everything is perfect, from the tents to the whales. Today, I kissed a whale for the first time in my life!! That feeling is hard to put into words, but I will remember it for the rest of my life!! No other kiss will ever compare!! Pame is amazing. Hands down. Her Passion is contagious and it's inspiring to see. I hope the video I make of the blog will do this trip justice. The whole staff was also incredibly helpful. Everyone is amazing here don't be surprised if i hide on the island the last day and don't leave!! Thank you all so so so much. This Experience has changed my life."

Sarah Barret
In conclusion, Whale Watching in Baja is ideal for disconnecting to reconnect. That's how it feels to embark on this journey. Surrounded by nature, with breathtaking landscapes, sunrises that will steal your breath away every morning, and nights that are simply indescribable with countless stars lighting up the sky. Accompanied by the songs of whales, the dawn chorus of birds, and the silence of the desert, this experience will offer your life a new perspective where peace, connection with nature, and each new day will hold a purpose.