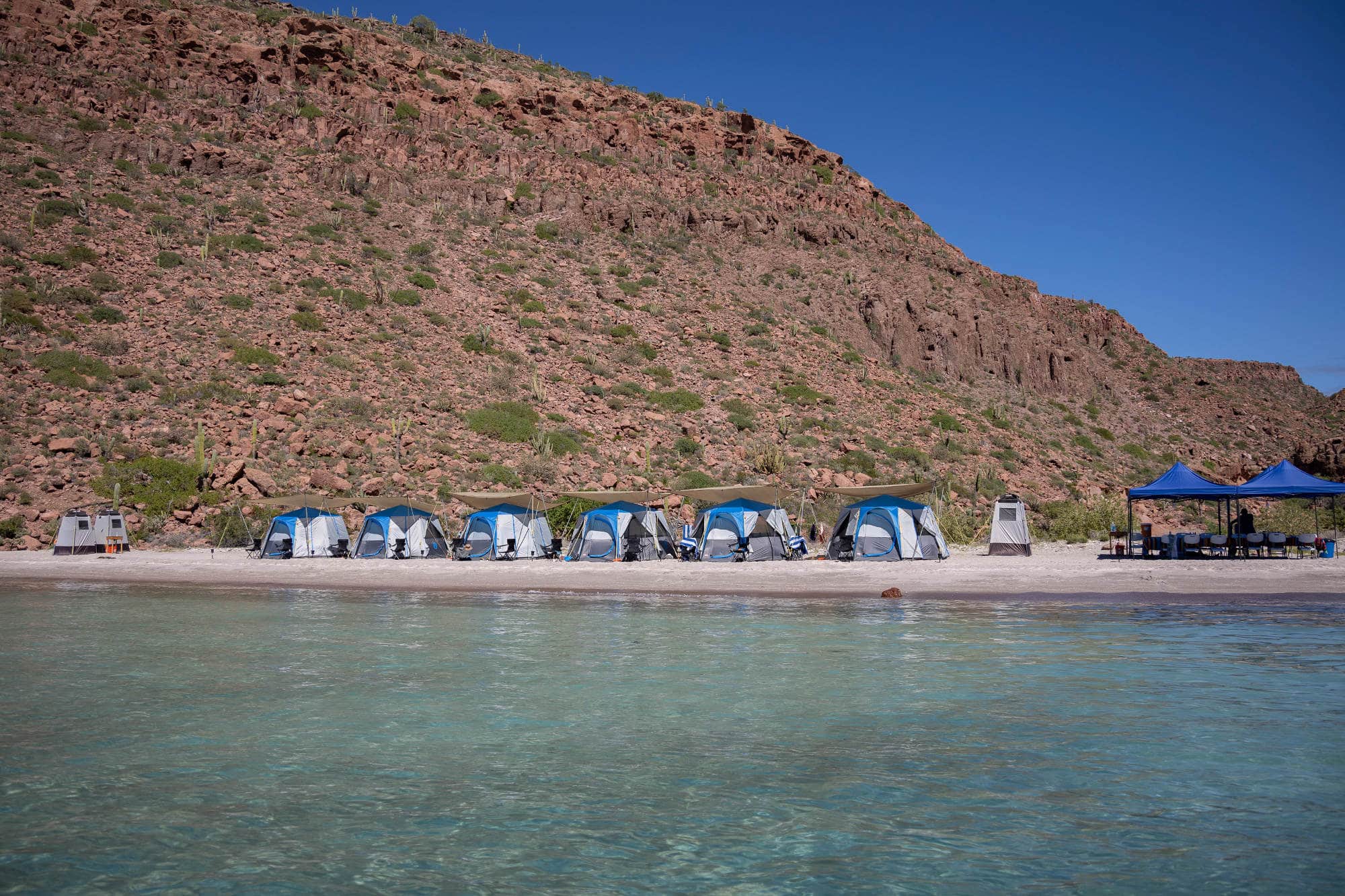 San Ignacio Lagoon • Glamping
January- April
San Ignacio Lagoon
We say "NO" to tiny tents with cots, sleeping bags, and a couple of shared toilets and showers for the whole camp! Our tents are windproof, insulated, and heated for maximum comfort, with ensuite bathrooms and showers, hot and cold running water with good pressure, and 24-hour power. Not to mention "real beds" with fine linen.
Enormous thought has gone into every detail, from a fire pit to a fine selection of wine, craft beer, single malt scotches, and fine dining. We even have a bar and lounge tent and Wi-Fi-access throughout the camp.
San Ignacio Lagoon • Luxury
January- April
San Ignacio Lagoon
Our luxury camp features all the amenities of the glamping camp, but with 12 large and luxurious tents, ensuring the utmost privacy. Each tent features an ensuite bathroom, a dresser in the bedroom as well as a separate sitting area with a couch and easy chairs – perfect for relaxing after a day of adventure.
Think of our luxury camp as one of the world's best pop-up hotel.
Espiritu Santo Island • Eco-Experience Camp
October – May  
Espiritu Santo Island
Stunning beaches and the beautiful Sea of Cortez meet on the shore of Espiritu Santo, which is delightfully pristine and off-the-grid despite being only 18 miles north of La Paz. Tim Means, the founder of Baja Expeditions, saved this island from commercial exploitation by raising the funds to buy the island from the developers and arranging for its donation to the people of Mexico as a national park. There are no permanent residents on the island and we hold one of the few limited minimum-impact base camp permits.
We offer all sorts of awesome adventures from our unique week-long "swim treks" complete with swimming coaches to dive trips based right in the heart of the best La Paz area diving, to base camp for kayaking adventures, to simply relaxing on the beach with a good book and supply of cold drinks from our hostesses. You will be able to enjoy delicious meals and excellence in guest service.