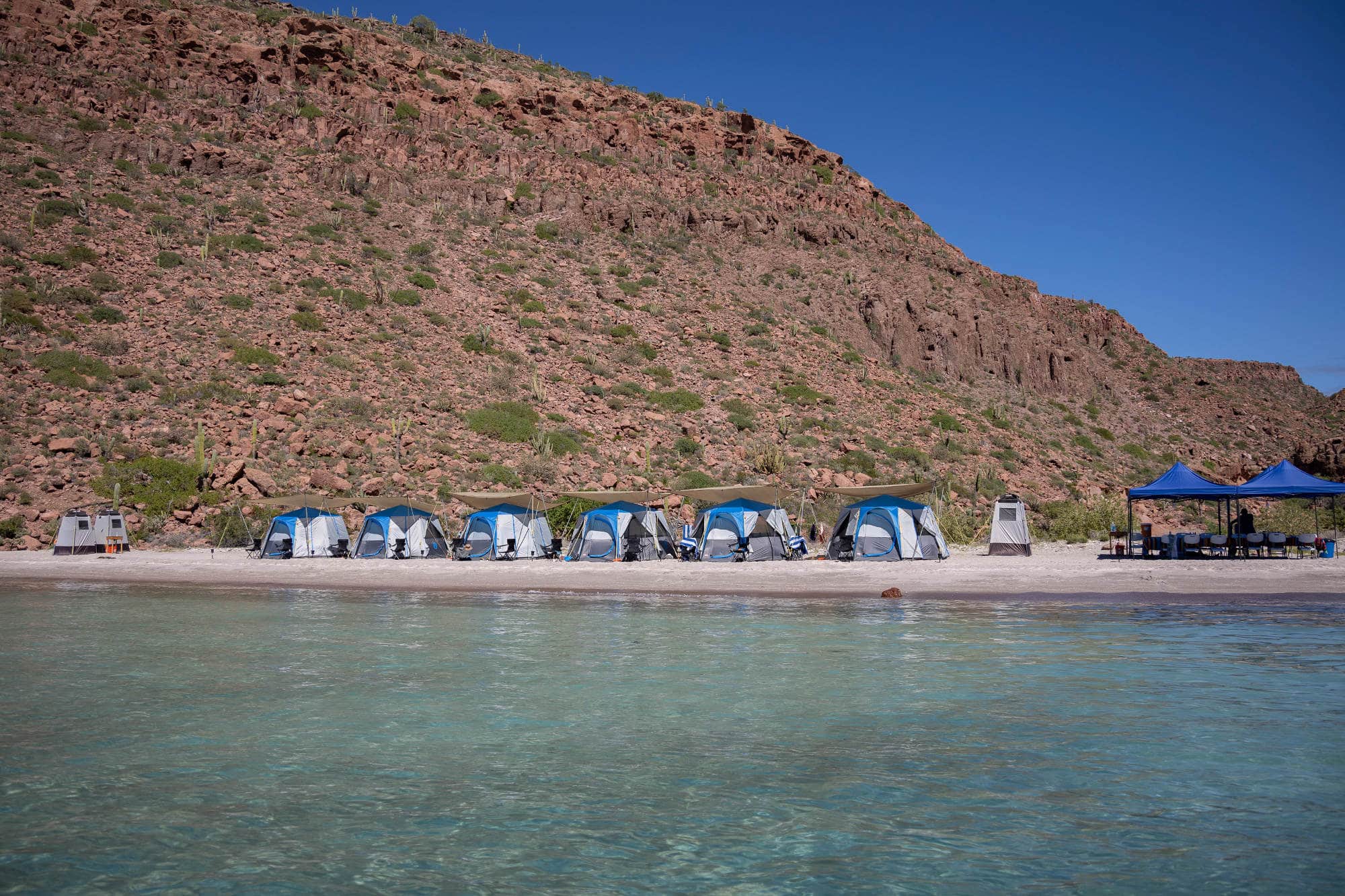 Isla Espiritu Santo • Eco-Experience Camps
October – April
Espiritu Santo Island
Our ultra-exclusive camps enable you to stay in Baja Mexico's most remote, untouched landscapes in comfort and luxury.
Stunning beaches and the beautiful Sea of Cortez meet on the shore of Espiritu Santo, which is delightfully pristine and off-the-grid despite being only 18 miles north of La Paz. Tim Means, the founder of Baja Expeditions, saved this island from commercial exploitation by raising the funds to buy the island from the developers and arranging for its donation to the people of Mexico as a national park. There are no permanent residents on the island and we hold one of the few limited minimum-impact base camp permits.
With full mothership support, we offer all sorts of awesome adventures from our unique week-long "swim treks" complete with swimming coaches to dive trips based right in the heart of the best La Paz area diving, to base camp for kayaking adventures, to simply relaxing on the beach with a good book and supply of cold drinks from our hostesses. You will be able to enjoy delicious meals and excellence in guest service.
Special Features Included With Your Stay
on the Island:
Scuba diving
Snorkel, swim or dive with the sea lions of Los Islotes
Get in the water with the giant whale sharks of Mogote
Guided kayaking or paddle boarding
Swim trek (in season)
Mobulas (in season)
Whale watching (in season)
Mobula rays (in season)
Fin back whales and if we are lucky, orcas and even blue whales..(in season)
Ready to Discover Espiritu Santo?