Special Offers
Sign up for our promotional emails below to keep up-date and be the first to receive our offers!
Spotter Airplane Support
Mobulas & Orcas

We love these adventures and have such a good time this season that we are adding an extra boat for 2 departures on July 8th, and finishing the season with a bang! Our Nautilus Gallant Lady and Nautilus UnderSea will each be departing with just 12 guests maximum.
This is the perfect number to maximize your experience, with our own airplane spotting us onto large aggregations of mobula rays, on patrol for huge pods of dolphins, whale sharks, pilot whales, cownose rays, finback whales, and sperm whales if we are lucky. And of course, we are always on the lookout for the most iconic animal on these trips, orcas!
Socorro Island
Giant Mantas & Dolphins
June is unbelievable for diving!!

May and June are our favourite time of year to dive Socorro. The waters are warming up nicely, and we often get calm seas without North Pacific storm swell rolling down the coast.
Most importantly for divers, this is when we get the largest biomass of animals of the year. Not only do we encounter our regular super-friendly giant mantas, interactive pelagic dolphins and loads of sharks, but it's also one of the best times of the year for schooling scalloped hammerhead sharks, pilot whales, tuna and the only time of the year when we see schooling silky sharks. It's truly awesome!
55-ft Pocket Liveaboard Westerly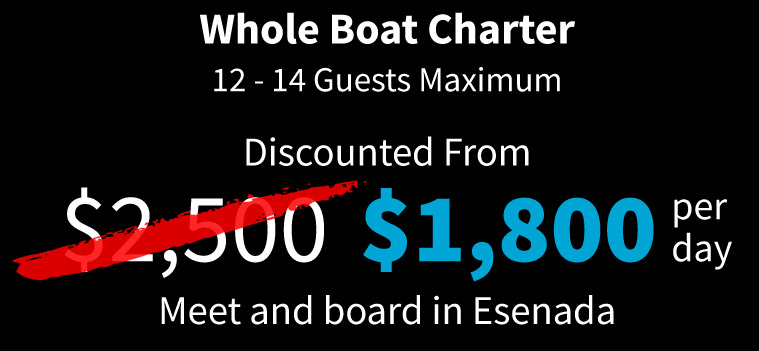 Take advantage of a positioning trip that we are making regardless! We will be disembarking from a scientific and conservation expedition in Ensenada on August 30, 2023, and we have to get the boat back home.
This is a very unique opportunity and adventure. Explore kelp forests, interact with sea lions, visit Cedros Island, San Benitos, Rocas Alijos, or wherever you like on the West Coast on this stout little ship.
The Westerly was a well-known and well-loved former California liveaboard that we took through a massive refit and rebuild. It now has all the goodies one would expect from a pocket liveaboard from air con to watermaker to zodiac style skiff.
Mango Wind – Catamaran Sailing Yacht
Spotter Airplane Support Mobulas & Orcas – Limited load: 3 to 6 guests max.

Join us for a peak season trip with an unforgettable experience with just 3 to 6 guests onboard. Swim, snorkel and free dive alongside huge schools of mobula rays and dolphins. We'll also be on the lookout for whales, and of course, we will be searching hard for the orcas that frequent the Sea of Cortez this time of year.
This is a sailing tripthat offers a gorgeous feeling when the sails go up and the engines get shut down for a blissful quiet. You'll also have the opportunity to interact with animals from our accompanying high-speed scouting super panga!